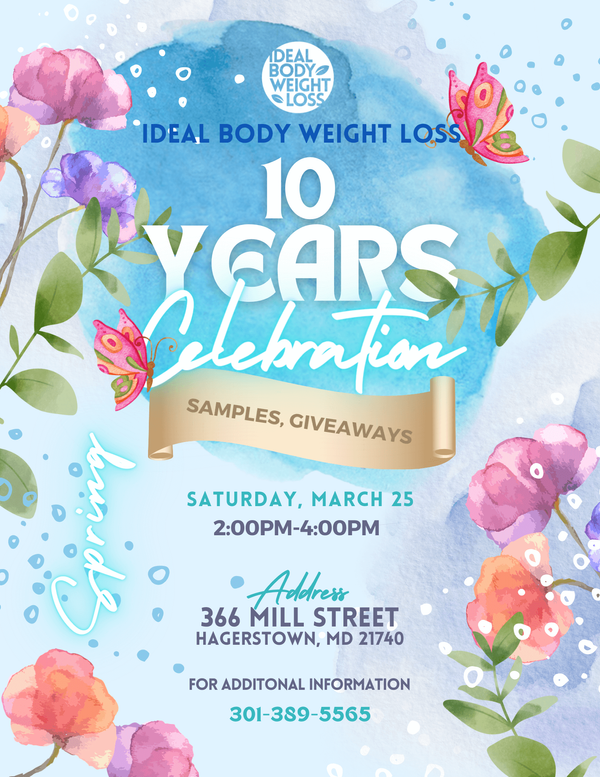 Ideal Body Weight Loss is celebrating 10 years, and we can't wait to celebrate with you!
We're formally inviting you to our 10-year anniversary celebration on Saturday, March 25th from 2-4 pm.
We'll have samples, giveaways, and more! We'd love to see you, and bring a friend, too! The more, the merrier!
Stop by Ideal Body Weight Loss's location at 366 Mill St in Hagerstown, Maryland!

"Go on my page Rodney K Rhodes on Facebook and see pics and hear about my over 200 lb weight loss since Mid October with Ideal Body Weight Loss. It is possible! It is not hopeless! NOW IS THE TIME TO START!!! Thank you Diane and the gang at Ideal Body Weight Loss!!! You have become family! God Bless!"
Rodney R

"Great service and coaching here. I feel better within a few weeks of this program, which is based on a ketogenic way of eating. I've tried eating "keto" before but failed because of my addition to sugar. ( I'm still trying to find healthy recipes that I can eat on this plan that include a boat load of mashed potatoes )... This program works for me because I don't have to think too much about what I put in my gullet - it's planned out and easy to follow."
Vijay-Kumar S

"Simply life changing. Lots of yummy options!😋"
Cody C